Trendings
11 Most Iconic Staves In Elden Ring, Ranked
If you want to use magic, you'll need the best staff you can find. These add power to any Elden Ring magic build.
Some of the most powerful builds in Elden Ring are those that focus on magic. When optimized well, they can make some of the game's hardest bosses easy to beat. And you'll need a staff if you want to cast spells. As you travel through the Lands Between, you'll find a lot of them, but some are much more useful than others.
The reasons for these differences vary. Maybe they make a certain type of spell better or just do a lot of damage. No matter what, it's clear that not all staves are equally useful. Here are a few that you might want to use on your next playthrough.
Albinauric Staff
The Albinauric Staff was a key part of Arcane builds when Elden Ring first came out. Because of how powerful these strategies are as a whole, it was nerfed in a big way. Even so, the best way to cast spells is still with the Albinauric Staff if you are playing a split Arcane/Intelligence build (maybe with some Faith added).
You have to go to Volcano Manor to get this staff. You'll find it in a dark room guarded by a tough Omenkiller enemy on your way to the Godskin Noble boss
Gelmir Glintstone Staff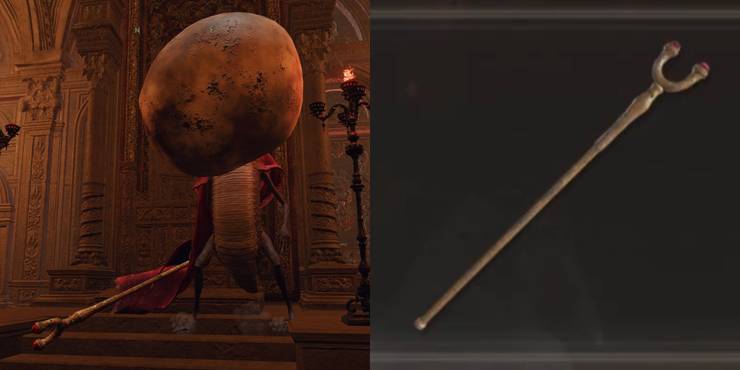 It's possible that not even the most seasoned Elden Ring gamers are aware of the existence of such weapons. One of these weapons is the Gelmir Glintstone Staff. Which is a shame because it works great for some builds. It offers the strongest Sorcery Scaling for split Intelligence/Faith builds up to level 50 in both stats, and it increases Volcanic Sorceries (which aren't particularly strong). Unless you grind a lot, that's about where you'll be at the end of your first playthrough. The problem is that it won't be fun to get the Gelmir Glintstone Staff.
You can get this staff from a Man-Serpent Sorcerer in Volcano Manor. It's not hard to tell which one it is because it has a huge egg on its head. Unfortunately, there is only one enemy like this, and getting ready for it is hard. If you don't need this weapon for your build, you might want to pass on it.
Academy Glintstone Staff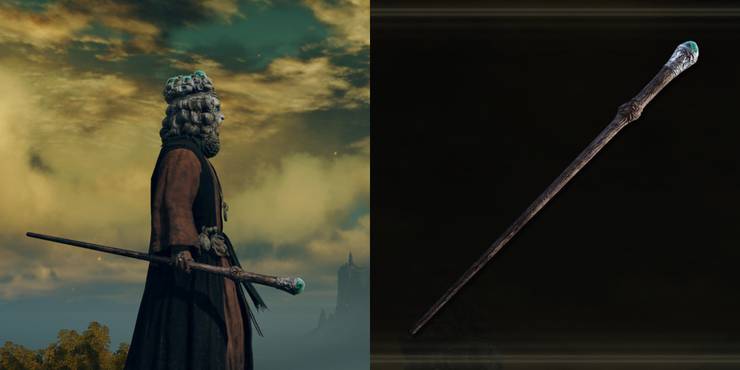 The Academy Glintstone Staff is not a very common weapon, but it is one of the best in Elden Ring game in a certain situation. Between 41 and 68 Intelligence, no weapon compares to the damage dealt by a fully upgraded Academy Glintstone Staff. It probably won't be your main weapon for the whole game, since you'll probably go all the way to the soft-cap of 80 Intelligence if you reach 68.
Still, this staff can help you get through the middle of the game. To get it, you'll have to put in some work. You can't just pick it up off a dead body like most of the other staves on this list. The first thing you can do is finish Thops' questline. You can also farm the very annoying Glintstone Sorcerers who live in the Academy of Raya Lucaria to get the staff.
Demi-Human Queen's Staff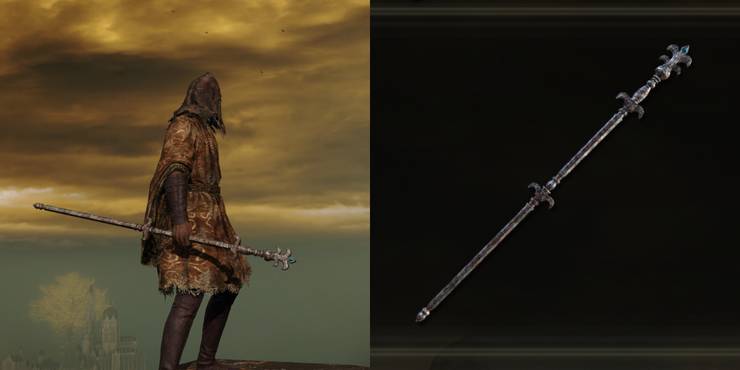 The Demi-Human Queen's Staff is perfect for players who want to try out casting Sorceries for the first time. You might want to play a character with a lot of strength who uses spells to fight flying enemies that are hard to reach. When fully upgraded, this staff will do the most damage if you plan to stay at or below 40 Intelligence. In the early game, the Meteorite Staff is better, but in the late game, if you have a character with a low Intelligence, you should use the Demi-Human Queen's Staff.
It may be obtained by eliminating the Demi-Human Queen in the Weeping Peninsula's Demi-Human Forest Ruins.
Prince Of Death's Staff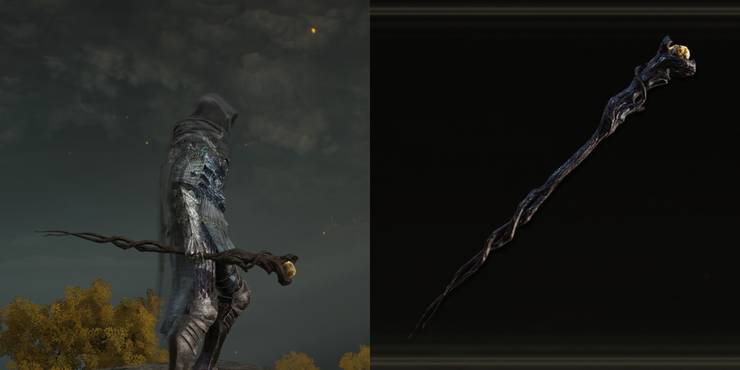 The Staff of the Prince of Death can have the highest Sorcery Scaling of any item in the game. To reach those heights, you'll need to get your Intelligence and Faith up to 80, which is their soft-cap. If you play at very high levels, it becomes your best choice for a staff, and it also gives Death Sorceries like Ancient Death Rancor a 10% boost.
Many players will never get to the level they need to be able to use the Prince of Death's Staff. But it can be a powerful tool for people who are willing to put in the time. To get it, go down to the Deeproot Depths. The staff is on a tower near the Site of Grace for the Nameless Eternal City.
Azur's Glintstone Staff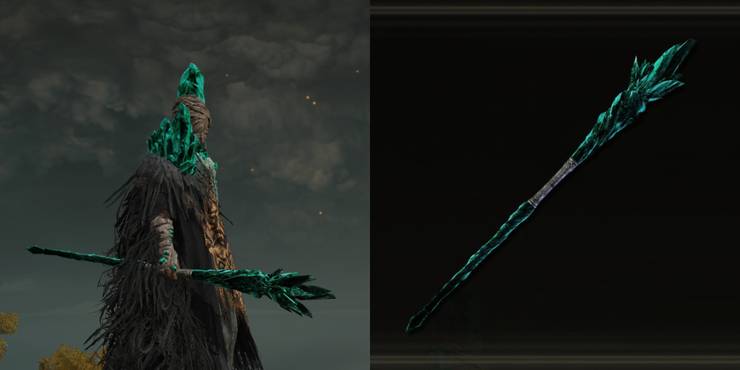 The legendary sorcerer Azur's staff is one of the more interesting ones in the game. It's not the strongest, but it has a rare effect: it cuts the time it takes to cast both Sorceries and Incantations by about 8%, but it makes all your Sorceries cost about 20% more. It also doesn't do as much damage as many other staves, so the trade-off might not seem good. But you can use a holdover from the Dark Souls games to your advantage. If you hold a staff in your off-hand, even if you aren't using it to cast spells, its buffs will still happen, but its debuffs won't.
Azur's Glintsone Staff, a powerful weapon for casting spells quickly, may be found in the crystal room of the Academy of Raya Lucaria, next to the dormant School of Graven Mages.
Meteorite Staff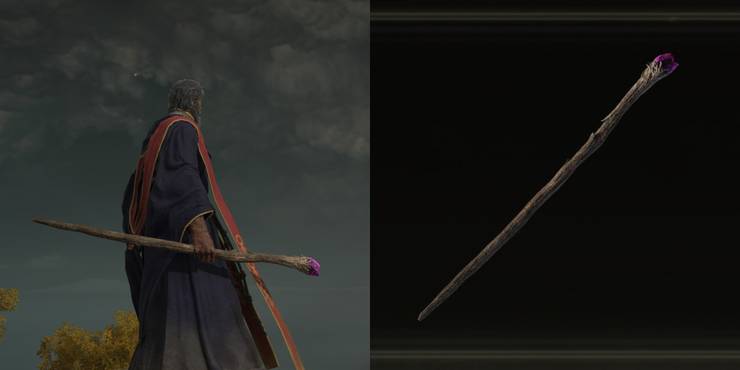 The Meteorite Staff is special because it can't be improved in any way. In most cases, that would make it useless. But its base scaling is really good. It's the best staff in the early game by a long shot. And if you go to the Street of Sages Ruins in Caelid, it's easy to get to almost right away. For a new player, taking on Caelid can be scary, but the Meteorite staff is worth it, even if you have to do a suicide run to get it.
Even in the late game, the Meteorite Staff isn't completely useless because it gives a 30% boost to Gravity Sorceries. These Sorceries, especially Rock Sling, are some of the best in Elden Ring game. If you want to build around them, holding the Meteorite Staff in your other hand will give you a big boost.
Carian Glintstone Staff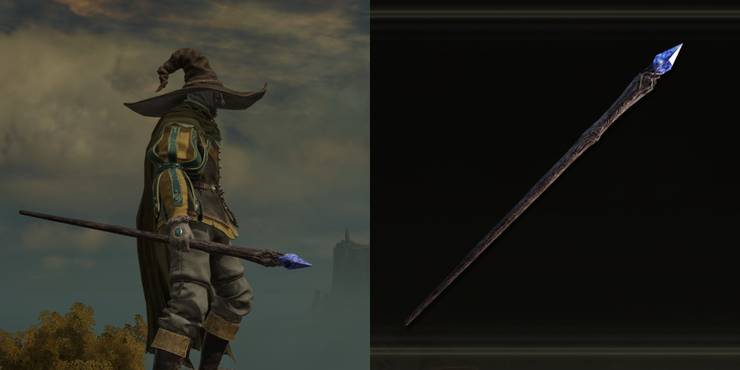 Do you find swords fascinating but secretly wish they were forged from some other material, such as magic? We have the right people for you! The Carian Glintstone Staff gives a 15% boost to Sword Sorceries, which are spells that make a sword appear at the end of your staff. Note that it doesn't improve Glintblade Sorceries, which are the ones that make swords that float in the air. You'll need the Carian Glintblade Staff, which is a good name for it.
The Carian Glintstone Staff is typically an essential part of Sword Sorceries-based builds, allowing for them to inflict astonishing amounts of damage. You can find it right before the second elevator in the Carian Study Hall.
Staff Of Loss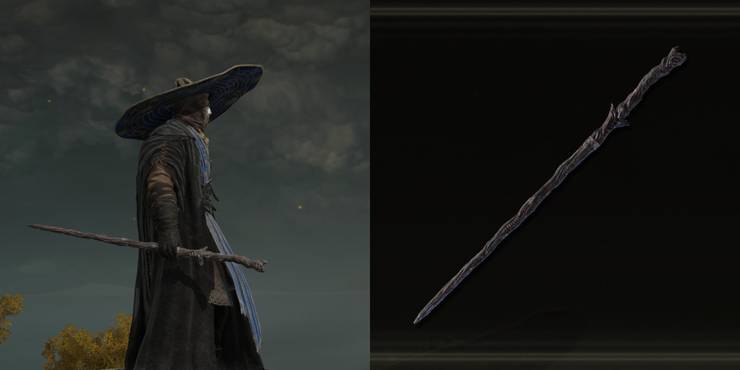 The Staff of Loss is different from most of the other staves on this list because its power has little to do with how its base spells scale. Instead, what makes it so good is its secondary ability: it makes spells that make you invisible work 30% better. Only Night Shard and Night Comet are affected. But it turns out that these spells can be very helpful.
Some of the more annoying bosses and NPC invaders won't be able to avoid these spells, making them one of the best ways to deal with them. In New Game Plus, you can get a second Staff of Loss, which makes this strategy even better because it gives your Invisibility Sorceries a 60% boost. The Staff of Loss is on the roof of a dead person in Sellia, Town of Sorcery.
Carian Regal Scepter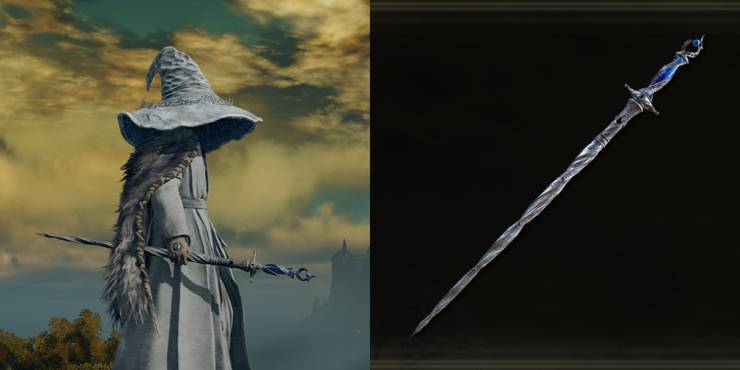 When your Intelligence is high, the Carian Regal Scepter will do more damage than any other staff without any downsides. It also makes Full Moon Sorceries work better, and it has a special Ash of War. Both of these won't change 8 Ball Pool game, but they're still nice additions to an already very powerful staff.
This is the right staff for you if you just want power and don't care much about extra buffs and debuffs. After defeating Rennala, Queen of the Full Moon, at the Academy of Raya Lucaria. You can trade her Memory for the Carian Regal Scepter with Enia in the Roundtable Hold.
Lusat's Glintstone Staff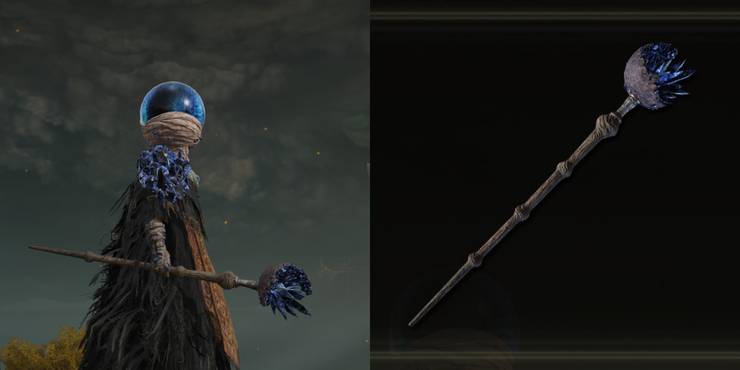 After going back to Sellia, Town of Sorcery one more time and killing the Nox Swordtress and Nox Priest, the bosses of the area, you'll find a chest. Inside is Lusat's Glintstone Staff, which is the most powerful staff in the game. If Intelligence is the only stat you spend points on that affects damage. It will do more damage than any other stave in the game.
Like the Azur Glintstone staff, it makes all Sorceries cost more FP, but the increase is much bigger: 50%. But since it does a lot more damage, Lusat's Glintstone Staff is worth using if you're willing to put the levels into Mind and increase your FP. Of course, the extra cost doesn't matter at all if you use the Cerulean Hidden Tear in your Flask of Wonderous Physick, which stops all FP use for 15 seconds.
Overall, it may not be as good as the Carian Regal Scepter. But if all you want is damage, Lusat's Glintstone Staff is the best.